Alfonzo Moreno Perez wins the Connachts!
The Optimist Connachts took place in Waterford Harbour Sailing Club over the weekend. And Alfonzo Moreno Perez won first place at the event, with Hugh Turvey in 2nd place (and first Irish), Cillian Foster in 3rd, Conor Gorman in 4th, Rory O'Sullivan in 5th and Emily Riordan first girl.
First place in the Juniors went to Johnny Flynn of HYC, who had three bullets, with Luke Turvey in 2nd, Fiarchra McDonnell in 3rd, Sam Ledoux in 4th and Killian Reidy in 5th and Anna Keal first girl.
First place in Regatta fleet went to Des Turvey, with Harvey Mathews in 2nd, Harry Moynan in 3rd, Joe Landers in 4th and JP Curtin in 5th place.
A big thank you to all the race committee and the team of volunteers who worked so hard over the weekend.  You made all the Optimist fleet feel very welcome and really made the weekend special.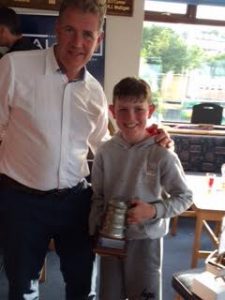 Well done to all the fantastic sailors who travelled from the four corners of Ireland to compete.  You guys were amazing, had great fun on and off the water and made your clubs very proud.
Full results are available on IODAI.com and a full video of the prize giving is available on Waterford Harbour Sailing Club Facebook.
Next stop the Irish Nationals in August, don't forget to register!