European Team Report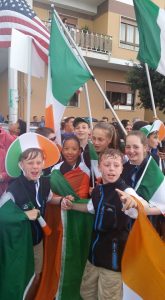 The Irish Optimist European Team competed in challenging (mostly 20-ish kts, 1m+ seas) conditions in sizzling hot Crotone, Italy. The young Irish team (12/13 year olds) all competing in their 1st major championship learned a lot and had a wonderful team experience led by Coach David White and Team super-Mum Mel McGinley.
The standout star was Leah Rickard who made the Gold fleet and finished 37th overall and had a 2nd place in a qualifying race and solid 14th and 10th place finishes in the Gold fleet to end the event, when the winds abated slightly.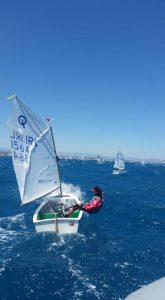 Also in the girls fleet were Alana Coakley and Fiona Ferguson who finished 28th and 41st in the Silver fleet. Both saved their best for last with Alana getting two top 20 finishes and Fiona one top 20 finish on the last day.
In the boys fleet, Conor Gorman led the way with a 27th place in the Silver fleet, his top finish, an 11th place on the last day. Michael Crosbie finished 43rd in the Silver fleet and had a 12th place in an race in tough conditions early on. Moss Simington finished 59th in the Silver fleet and he had a 15th place race mid week.
Hugh Turvey truly saved his best for last with 3 top 5's in the Bronze fleet – and took the top step on the podium (1st in the Bronze). Harry Twomey finished 48th in the Bronze fleet and best finish was a 24th, showing great promise for the future.
Girls (105 in total):

Leah Rickard, 27th overall, 27th Gold
Alana Coakley, 81st overall, 28th Silver
Fiona Ferguson, 94th overall, 41st Silver

Boys (185 in total):

Conor Gorman, 89th overall, 27th Silver
Michael Crosbie, 105th overall, 43rd Silver
Moss Simington, 121st overall, 59th Silver
Hugh Turvey, 125th overall, 1st Bronze
Harry Twomey, 172nd overall, 48th Bronze