Great weekend for Irish Optimist Sailing in Palma, Mallorca
Last weekend a small team of 4 Irish Optimist Sailors participated in the Trofeo Ciutat de Palma, in Palma, Mallorca.
This year was the 67th year of the event. Team Ireland comprised of Alana Twomey, Emmet Lucas, Justin Lucas and Harry Twomey. The team were coached by Dara O'Shea and Bocha.
They sailed against some of Europe's best sailors from countries including Mexico, Switzerland, Holland, Germany, Denmark, Poland, Sweden, Spain, France, Portugal, Italy & Israel.
The event provided 2 days of very competitive racing in a range of conditions. Unfortunately the last day of racing was cancelled due to excessive breeze. The Irish team were very competitive in this world class fleet of 280 Optimists.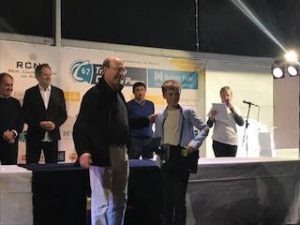 The two senior members of the team had a great regatta with top of the 280 fleet results. Harry Twomey finished 8th place and Justin Lucas finished 17th. Emmet Lucas and Alana Twomey both under 11 and competing in their first European event displayed great promise and showing they aren't afraid to push the line with one of them getting a black flag!
Well done to all, the future for Irish Optimist sailing is looking very bright.