International Development Training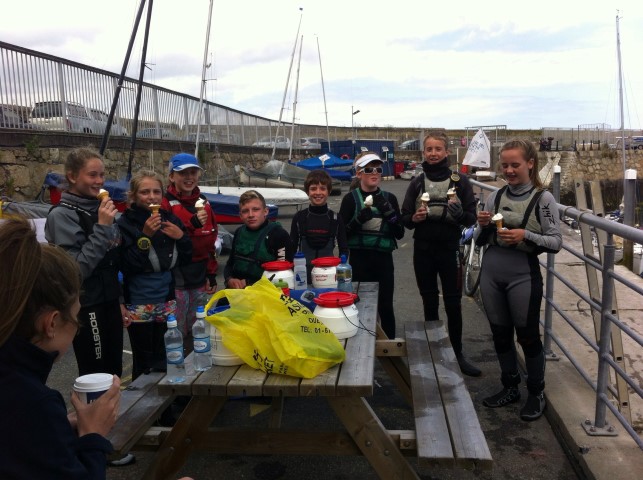 The first IDT training clinic kicked off with an intense boat handling session in light variable breeze in Dublin Bay.  This was a great opportunity for the coaching team (Kirsti and myself) to identify areas the sailors could improve particularly the mechanics of their light wind manoeuvres which were somewhat rusty having had a breezy racing season so far.  A great quality session followed by detailed video analysis proved valuable to all the sailors and gives them plenty to work on before the next clinic in a weeks' time. Saturday was an excellent day with steady breeze which enabled the team put in more solid hours on the water focusing on tuning and speed in the morning session and then starts in the afternoon.  Gains were made by every sailor in the group as we were able to create tight racing situations which put everyone under pressure.  Again the sailors were able to see clearly from the video of the starts how much they improved throughout the session and that every manoeuvre counts in tight light wind situations.  A great way to round off the first clinic was a jog over to the European team in the RStGYC for a group briefing before a full day of team racing. The IDT performed extremely well against the more experienced team racers on the European team winning the first few matches. All sailors thoroughly enjoyed the team racing; the fast pace of the races with so many manoeuvres, calls and moves happening constantly throughout.  Communication within the teams and making the rights calls for the combinations they were in represented a huge learning curve for the sailors.  Racing with the European team who really upped their game throughout the session, was ideal training for the IDT.
The weekend was a great success by all accounts having clocked up high hours on the water in ideal conditions in preparation for the French Nationals.  The concentration and intensity of the sessions never dropping is a credit to the motivation of the IDT sailors. The DMYC was extremely hospitable and accommodating to all of us and we would like to express our thanks to the commodore Kevin Bourke and boathouse captain Denis Nolan who both ensured we were facilitated in every way possible-the sailors were even given ice-creams by the club which were really welcomed by the team in the warm weather.  Bring on the next week long clinic starting 30th June!