Irish Optimist Sailors Achieve Top Results in The Hague Optimist Cup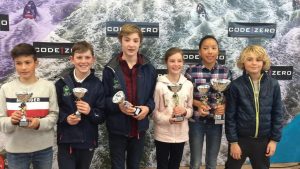 Last weekend, six Irish Optimist Sailors participated in the The Hague Optimist Cup 2017 in Scheveningen in the Netherlands. The event was the test event for the 2018 European Optimist Championships, Team Ireland, composed of Leah Rickard, Nathan van Steeberge, Johnny Flynn, Sam Ledoux, Clementine van Steenberge, and Rocco Wright, and coached by Thomas Chaix. Team Ireland were joined by a field of selected Dutch sailors and teams from Finland, Denmark, Sweden, Belgium, Latvia, Hungary, Austria, Russia, Greece and Estonia.
The event was impacted by the bad weather pattern over the west of Europe, yet the 81 sailors managed to sail every day. Coach Thomas Chaix secured one solid day of training in light air with a few of the foreign teams before racing started. The event provided 4 competitive races over the 3 blustery days. Day 1 provided a 10 to 15 kts southerly whilst the remaining of the event was in 20kts + varying from West to South. Big waves, exciting downwinds and physical upwinds were the daily menu.
The Irish sailors were very competitive in the world class field with clear strategies in the very strong currents. Ireland scored 2 bullets courtesy of Johnny Flynn and Leah Rickard and came home with plenty impressive silverware building good confidence towards the Europeans in 8 months time. 4 sailors ended their challenge in the top 10, The top female was Irish and also our two U11's Clementine and Rocco showed excellent promise for the future.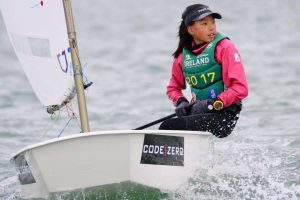 1st Girl (Champion) and 5th Overall, Leah Rickard, NYC, 16-5-1-3
6th Overall, Nathan Van Steenberge, NYC, 4-8-8-5
7th Overall, Johnny Flynn, HYC, 1-9-2-15
8th Overall, Sam Ledoux, NYC, 14-4-5-9
41st Overall and 3rd U11, Clementine Van Steenberge, NYC, 29-34-12-13
53rd Overall and 7th U11, Rocco Wright, HYC, 30-15-11-UFD