Irish Sailors dominate at the British Nationals!!
Rocco Wright of HYC and NYC and a member of the Team Ireland Under 12 squad was crowned the overall Junior Champion at the British Optimist Nationals today! It was well deserved with Rocco getting a fantastic 7 bullets in a row!! Fellow Under 12 Team sailor Clementine van Steenberge of NYC was first girl at the event.
Team Ireland continued the amazing winning streak in the Senior Gold Fleet with Harry Twomey of RCYC and CHSC coming 3rd overall in the British Optimist Open and National Championship. He was joined in the top 10 Senior Gold fleet by RCYC club team mates James Dwyer Matthews in 6th place and Justin Lucas in 8th place overall.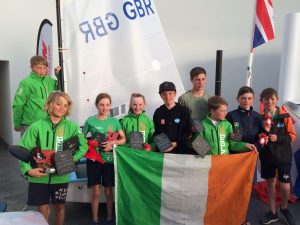 The Irish Under 12 team under the watchful eye of Team Coach Thomas Chaix had the best event ever for an Irish Under 12 Team attending a British Optimist Nationals, with an amazing 4 sailors in the top 5 in the Junior Gold Fleet!
1st Rocco Wright, 3rd Ben O'Shaughnessy, 4th George Pritchard and 5th Clementine Van Steenberge (1st Jnr girl)
The under 12's also dominated in the Junior Gold girls with Clementine Van Steenberge placed 1st Jnr girl, Jessica Riordan 3rd Jnr girl and Alana Twomey 5th Jnr girl.
The Senior Silver fleet was led by Irelands Emily Riordan, who came first place and first girl overall. Simon Pritchard came 5th and team mate Adam Walsh was 6th overall.
In the Junior Silver Fleet, Emily Conan of the Team Ireland Under 12 squad, kept up the Irish winning streak taking home the 2nd girl prize.
To top off the fantastic week on the water for Team Ireland, Conor Staunton won the top prize in the raffle for a brand new Optimist!!
A really big thanks to Thomas Chaix of Dinghy Performance, Cliodhna Ni Shuilleabhain, Sophie Browne, the Team Ireland Under 12's coaches for the event for doing a sterling job with their team. Big congrats to the other Irish Coaches John Durcan, Erica Ruigrok and Vivienne Chaix.
Sailors, coaches and parents had an amazing week in Pwllheli, in the Welsh sunshine. A very big thank you to IOCA for making Team Ireland feel most welcome at the event.
Congratulations to all the Team Ireland sailors, you made your clubs and country very proud.
Next stop the Irish Optimist Nationals in Kinsale Yacht Club next week!