Irish Worlds Team Finish 3rd at Dutch Optimist Team Racing National Championship 2017
A massive well done to the Irish World's team who finished in 3rd place at the Dutch Optimist Team Racing Championship over the weekend.  They faced tough competition from the Worlds Teams from Holland, Sweden, Spain, Switzerland & Belgium.
The Irish Worlds Team attended the event as part of their preparation for the Optimist World Championship 2017.  Team captain Harry Twomey of RCYC & CHSC, was joined by Justin Lucas of RCYC & TBSC, Alana Coakley, RStGYC and Leah Rickard, NYC.  They were missing fellow team member Charlie Cullen RStGYC & NYC as he had to stay in Ireland to complete his Junior Cert.
The team sailed 20 races over the two day event and in the semi finals beat the Swiss Team that have dominated the Monaco Optimist Team Racing event for the last three years, to finish in 3rd place overall.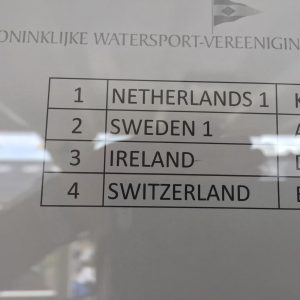 Well done to all for a great result and of course to their coach Dara O'Shea.
Remember the Vice President Team Racing Trophy takes place this weekend in Howth Yacht Club.  With 12 teams signed up to this event we are looking forward to a great days sailing this Saturday.