Justin Lucas and Ben O'Shaughnessy take the top prizes at the Ulsters!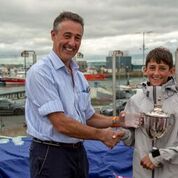 A great weekend of racing was had by all at the IODAI Leinster Championships last weekend in Howth Yacht Club. Over 100 sailors travelled from all over Ireland for the second Regional event of 2018. Six races were raced in both Junior and Senior Fleet in windy conditions in Dublin Bay.
Top prize in the Senior Gold Fleet went to Justin Lucas of RCYC, 2nd place went to Michael Crosbie also of RCYC, 3rd place went to Emily Riordan of RstGYC, 4th place went to Fiachra McDonnell of NYC and 5th place went to his brother Rian Geraghty-McDonnell also of NYC.
The Junior Gold Fleet top prize went to Ben O'Shaughnessy of RCYC, 2nd place went to Clementine van Steenberge of NYC, 3rd place went to Jessica Riordan of RStGYC, in 4th place was Alana Twomey of RCYC & CHSC and 5th place went to Peter Williams of RStGYC and CHSC.
First place in the Regatta Fleet went to Caoilinn McDonnell of NYC.
A big Thank you to all in Howth Yacht Club for hosting the Leinsters and for your team of amazing volunteers, coaches and parents who really made the event so special for everyone.
Photo Credits: Many thanks to Paul-Michel Ledoux
Entries open for Connachts and 2018 Irish Nationals
Entries for the 2018 Irish Nationals taking place in Kinsale Yacht Club are now open.
Entries are now also open for the Connachts, taking place in Lough Derg Sailing Club. This year they are taking place over the weekend of July 7th and 8th.
We would encourage you enter as soon as possible.
Entry for the Connachts is €60:03 and the early entry fee closes at 10pm (sharp) on Friday June 22nd. From June 22nd the fee goes up to €120:03
Final closing date is Wed 27th June, at 10pm sharp
Open to: Regatta Fleet/ Snr Fleet/ Jnr Fleet