Justin Lucas wins the Merrion Private Leinster Championships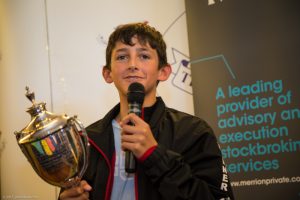 In tough conditions in Dun Laoghaire Harbour with high winds and gusts in excess of 30kts, Justin Lucas (RCYC/KYC) won the Senior title at the Optimist Leinster Championships which was hosted by the National Yacht Club at the weekend.  Justin finished four points ahead of RCYC team mate Harry Twomey (RCYC/CHSC) who took 2nd place in the 42-boat fleet.  In a strong showing in the Senior Gold Fleet RCYC also took 3rd and 4th place, with Harry Pritchard (RCYC) in 3rd place and Michael Crosbie (RCYC) in 4th.  5th Senior Gold and first girl went to RstGYC's Emily Riordan.
It was an NYC weekend in the Junior Gold Fleet, with the winner being local sailor Fiachra McDonnell, Sam Le Doux of NYC in 2nd place and Luke Turvey of NYC/HYC in 3rd place. 4th place went to HYC's Johnny Flynn and 5th place went to Adam Walsh of LDYC.  First Junior Gold Girl was Clementine Von Steenberge of NYC in 7th place overall.
A big thank you to The National Yacht Club for hosting the Leinsters.  Many thanks also to PRO Con Murphy and to the team of amazing volunteers, coaches and parents who really made the weekend so special.
MAIN FLEET PRIZES (Full list of results on IODAI.com)
Senior Gold
1st Justin Lucas
2nd Harry Twomey
3rd Harry Pritchard
4th Michael Crosbie
5th Emily Riordan
1st Snr Girl Emily Riordan
Junior Gold
1st Fiachra Mc Donnell
2nd Sam Ledoux
3rd Luke Turvey
4th Johnny Flynn
5th Adam Walsh
1st Jnr Girl Clementine van Steenberge
Junior Silver
1st Eibhe Lubliner
2nd Matty Keane
3rd George O'Keeffe
4th Alana Twomey
5th Rachel Flood
Senior Silver
1st Lauren O'Callaghan
2nd Darragh Collins
3rd Salome Rebillard
4th Clodagh Malone
5th Jamie Wynne
Best Local Sailor Main Fleet Conor Gorman
Fair Sailing Award Sam Coveney
REGATTA FLEET
U 12                                     Conor Clifford
U11                                     Charlie Venner
U10                                     Brian Carroll
U9                                     Riona McMorrow-Moriarty
Best Local Sailor             Caoilinn McDonnell
Youngest Sailor             Niamh Connell
Fair Sailing             Kate Flood
Photo Credits: Paul-Michel Ledoux