Only 1 week left to register for 2017 Nationals!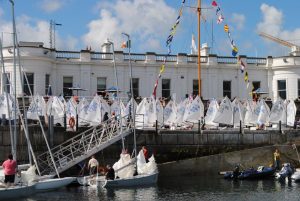 The closing date for the 2017 Irish Optimist Nationals is Thursday 3rd August at 10pm.  The entry fee is €160 per child.  (Late Entry Fee of €260 up until 7th August.  Closed after this date and no further entries will be accommodated.)
Please note that due to restrictions on space entries are capped at 150 sailors in Main Fleet and 50 Sailors in Regatta fleet.  Currently we have 128 Main Fleet and 41 Regatta fleet sailors registered.
The Nationals take place August 17th to August 20th in the Royal Irish Yacht Club, Dun Laoghaire, Co. Dublin.
As always this event promises to be great fun for all the family both on and off the water.  Don't delay and enter today!