Optimist Trials 2016 – Report
The 2016 Optimist Trials were held in Howth Yacht Club alongside the ISA Youth Pathway National Championship from 31st March to 3rd April. The Trials are a closed event for Optimist sailors qualifying by their performance in the four Regional and National events in 2015. 57 sailors from all around our country competed in the Trials 2016. Eleven races were completed over the course of the four days in cold and changeable weather. The event went very well thanks to excellent race management.
Day 1, Thursday, racing was delayed while the wind found time to behave and steady itself. It was a sunny cold spring day and 4 races were completed by the end of the day.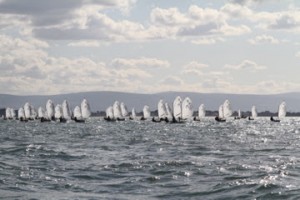 Day 2, Friday, fell victim to the elements, with strong gales. No racing took place and many of the competitors headed to the National Aquatic Centre for some fun.
Day 3, Saturday, started on schedule in light winds for the first three races allowing the sailors to settle before race four, where the forecasted heavier wind shifted to the south and strengthened making the race tough and the beat home to Howth Yacht Cub after racing even tougher. 4 races were completed on Day 3.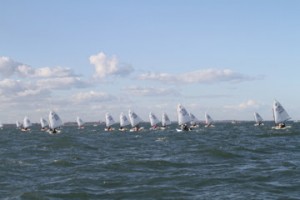 Day 4, Sunday, continued with heavier winds making it more challenging for the lighter optimist sailors, but all of the sailors coped very well over the 3 races before the wind disappeared.
Results of Trials 2016
Worlds Team (Vilamoura, Portugal in June)
Harry Bell (HYC), Micheal O'Sulleabhain (KYC), Tom Higgins (RstGYC), Cathal O'Regan (RCYC) & Rory O'Sullivan (RCYC)
Europeans Team (Crotone, Italy in July)
Harry Twomey (RCYC), Michael Crosbie (RCYC), Conor Gorman (NYC), Moss Simmington (RstGYC), Fiona Ferguson (NYC), Leah Rickard (NYC) & Eve McMahon (HYC)
International Development Squad (Loctudy, France in July)
Hugh Turvey (HYC), Justin Lucas (RCYC), Tim Norwood (RIYC), Luke Groarke Donagh (LRYC), Alana Coakley (RstGYC), Dylan McEvoy (HYC) and Ella May (SSC)
Places were offered for a new 2nd IDT team to go to Poland this summer. These places were offered to the next 5 sailors who have not previously represented Ireland on another team in other years. Killian O'Regan (RCYC), Sam Crawford (HYC), Ben McDonald (HYC), Trevor Bolger (RstGYC), Dylan O'Grady (HYC) will be going on this new Polish team.
Full results may be found within the results section of the IODAI website.
We would like to thank everyone who has been involved in running this event, the parents for all their support and dedication over the years and the young sailors without whom none of this would be possible. We wish all the teams the best of luck when they are abroad representing their country.