Rian Geraghty-McDonnell wins Irish Optimist National and Open Senior Championship & Luke Turvey wins the Junior Championship.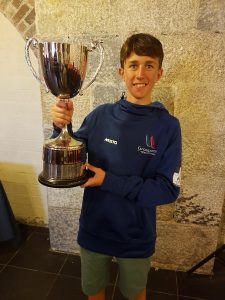 With a full series of 10 races sailed over the four day event everything came down to the last race to decide who was going to win the titles.  Rian Geraghty-McDonnell got a black flag in the second last race but showed real depth of character to come back in the last race and take the title with Justin Lucan of RCYC finishing one point behind.  The following results concluded the top ten senior sailors, Leah Rickard 3rd, Rory O'Sullivan 4th, Harry Twomey 5th, Emily Riordan 6th, Harry Prtichard 7th, Hugh Turvey 8th, Moss Simington 9th and Conor Gorman 10th.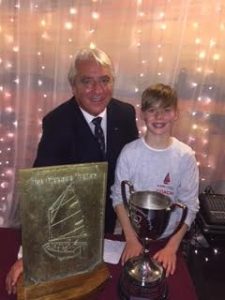 Luke Turvey of HYC/NYC won the Irish Optimist National and Open Junior Championship.   The Junior series mirrored the seniors and also came down to the wire with the last race deciding the title.  Luke Turvey beat HYC club mate Johnny Flynn by one point to take the Junior title.  Sam Ledoux of NYC came 3rd Irish in Junior fleet, finishing with a great bullet on the last day.
Oisin Kelly won the title in Regatta fleet, followed by Tristan Farrer from GBR in second place and in third place was Harvey Matthews from KYC.
It was one of the most competitive Irish Nationals ever with an amazing display of sailing talent by Irelands young and up and coming sailors.  They all did their clubs and parents proud.
As always it was wonderful to see so many International countries represented at the event.  We are looking forward to next year in Kinsale already!