Team Ireland arrive in the Hague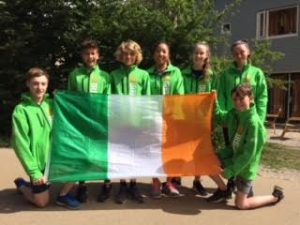 Team Ireland (Johnny, Leah, Eimer, Rocco, Sam, Emily and Nathan) and coach Thomas Chaix have arrived in The Hague for the 2018 Optimist European Championship's.
They started their final preparations for the 2018 Europeans with on the water training on Tuesday and Wednesday. Today (Thursday) is off the water due to high North Westerly winds and significant waves on the North sea. The Team are taking the chance to have a good recovery active day after 2 days afloat training and getting our bearings. Tomorrow is the Team Ireland measurement slot at 12.00 and then they are hoping for a short session afloat in afternoon.