The 420
The 420 is an established performance two person trapeze and spinnaker racing dinghy. There are 56,000 worldwide. This popular dinghy is sailed at school, club, open, national and international levels. There are many second hand boats available, active clubs and excellent tuition for all levels.
The 420 is a youth development boat in Ireland and in 42 other countries, and is still considered the top youth training boat. Most of the World's top sailors started in this class and easily moved on to succeed in other classes.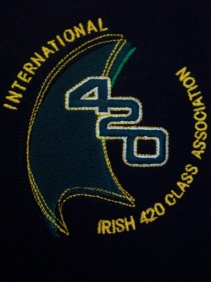 The Irish 420 Class Association organizes a training programme which is open to all class members. There is a full programme of regional and national events held right throughout the year. The 420 has been selected as the double handed boat for boys and for girls at the 2011 Youth Sailing ISAF World Championships.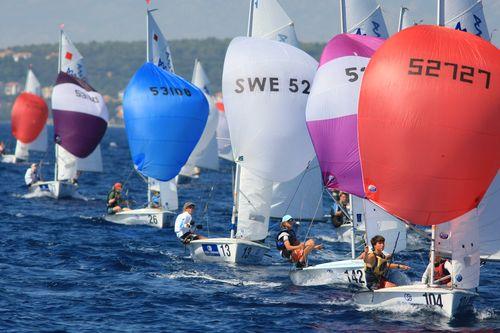 Suggested weight and age of sailor
Ideal competitive combined crew weight is 110-135kg (17 to 21 stone).
Typical age range is from age 14 and upwards. The junior age limit is U19.
The 420 is a very versatile boat which caters for sailors of all weight and height, the boat can be powered up and de-powered using the settings.
The helm weight range is 50kg – 65kg
The crew weight range is 55kg – 70kg
This class has proved very successful for Optimist sailors in recent years. The 2013 Youth National championships in LDYC was dominated by ex-Optimist sailors, as they took took the three podium places plus first girl place.
How to get started?
· Ask a 420 sailor to bring you for a spin either as a helm or crew.
· Attend the ISA Pathway Weekend usually in Sept/Oct
· Find a partner to sail with
· Buy a boat / charter a boat / borrow a club boat (see below)
· Join the Irish 420 association
Getting Hold of a Boat
There are a number of major boat builders based in Europe. In Ireland, the main supplier is Tom Mappleback of www.curradinghy.com who can source new, or secondhand boats. They have everything and anything which you will need for the 420. They supply new boat packages along with second hand boats as well.
Tom Mappleback may also have 420s for short or long term charter.
The class website also has an active buy and sell section http://www.sail420.com/live/forsale/
Also, talk to 420 sailors – they will know who is selling and can advise on suitable boats. You can easily find a boat on the internet on one of the following websites, be sure to contact the class before buying to make sure you are buying a quality boat.
There are a few main manufacturers of the International 420
Nautivela of Italy. http://www.nautivela.com/default_en.asp
Ziegelmayer of Germany. http://www.ziegelmayer.org/index.php
Baranowski of Poland. http://www.blueblue.pl/index.php?pagelang=en
Many clubs around the country have club 420s which can be hired for Kites and Wires courses, or loaned to members for practice. At the beginning of 2013, there are club boats in WHSC, HYC, MYC, RCYC.
If other clubs have club 420s, please email [email protected] to update this list.
Cost of boats
The boats vary in price depending on age and the equipment which you buy with the boat. The cost of a brand new boat with all the equipment and ready for the water and road is €9,500.
1-2yr old boats should be on the market for around €5,000 to €7,500. 2yr and older will be from €5,000. When buying a boat, try not to be distracted by all the extras which a boat may come with. Realistically you need 1 or 2 suits of sails for starting out, 1 for training and 1 for regional events.
When buying the boat you want to make sure it comes with the following equipment to make sure you are ready for the water:
– Top and Bottom Cover
– Launching Trolley and Road Trailer
Events
There is a very active event and training program within Ireland for the 420 class.
In Ireland the typical annual domestic calendar of events include the following:
– 4 Regional Events + Nationals
– ISA Youth Nationals at Easter
– End of Seasons in October
– Other events as the calendar allows e.g. Christmas Regatta, Currabinny Cup
–
Typical foreign events that are attended are:
– UK Selectors
– Kiel Week, Germany
– Intervela, Italy
– Junior European Championships
– World Championships
– UK Nationals, French & German Nationals
– UK End of Seasons
Training Opportunities
Training is organised on a regional basis in conjunction with the ISA, usually in Cork and in Dublin. There are also coaching camps during school holidays where the whole 420 fleet can gather together with a number of coaches catering for different levels of ability. Warm water training is also organised, targeted at sailors who are intending to compete internationally. The 420 is the ISA two handed pathway boat.
Number in class
The Class currently have over 40 boats active within Ireland in different clubs around the country. There are active training programs set up in these clubs to ensure that the class continues to grow with a structured program.
15 to 20 boats regularly competing is typical of recent years. We have had over 30 boats at a regional event. It is planned to have 470's racing at the same event as 420's in the future. The 470 is the next step up for 420 sailors who want to keep on sailing competitively.
Active clubs
The main clubs in recent years have been Howth Yacht Club, Royal St. George, Royal Cork, Kinsale, Baltimore, Spiddal.
Why sail this Boat ?
– Fast exciting boat
– Great experience in three sails for both helm and crew
– Great training opportunities and regular racing
– ISA Pathway Boat
– Once you sail the boat, you will have the 420 bug!