The Laser
The laser is a single handed dinghy that offer great versatility throughout your sailing career. As the sailor grows there is the option to change rigs and all that is needed is a new bottom section and sail. The laser is a class that can be sailed for life and has a strong international and domestic presence.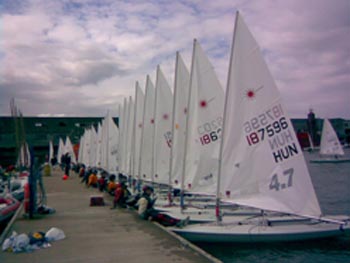 Why sail a laser?
There are lasers in nearly every club in Ireland so competitive racing is not hard to find for any level or experience
Ireland has some very experienced laser coaches with winter training being held in clubs all over the country
There is a rig for every weight range
The laser class is great for making lifelong friends
Five domestic events are held every year with a Worlds, Europeans, Europa cup circuit as well as many other events across the globe (great excuse for a holiday!!)
There are boats to suit every price range
The laser does not have many parts to maintain, break or replace and replacement parts are easily found and repairs easily carried out
Transport of a laser is simple, roof racks will suffice and there is no need to worry about getting halyards or stays tangled
It is an Olympic class allowing progression from club sailor all the way through the ISA pathway.
Getting Started
Lasers can be bought brand new from Dinghy Supplies, Mc Cready Sailboats(N.I) or second hand through the Irish Laser Class association website or through the many for sale sections on club notice boards and websites. The newest boats have a sail number starting with the numbers 19.
How do ex- Optimist sailors get on in a Laser?
Optimist sailors have sailed successfully in the Laser. In the 4.7, Conor O'Beirne was UK National 4.7 Champion in the same year that he left the Optimist, and in 2013 the Youth National championship saw recent Optimist-turned-Laser sailors take first, second and third place in the 4.7 event.
Prices
In dinghy supplies a Laser XD inc. trolley, top cover & combo bag cost €5515 inc. VAT brand new but prices do start from €1500 for beginner boats.
Weight and age ranges
Many parents fear that lasers may cause unnecessary strain on the sailor's backs due to the physical nature of laser sailing but they need to be reassured that with the proper fitness preparation and hiking technique the risk of long term damage is severely reduced.
It is more important to enjoy the sailing  rather than have a miserable painful time trying to fit into a rig that is too big (or small).
There are many different ages in the laser class ranging from 13-65. If you are not big enough for a radial  but feel you are too old don't worry, the 4.7 class has a growing 'senior' fleet with sailors aged 18+ sailing regularly in the fleet.
You might even get to race against your parents at some stage!!
The table below has the weight ranges:
| 4.7 | Radial | Full Rig |
| --- | --- | --- |
| 45-60kg | 60-75kg | 76+kg |