The Topper
Why sail this Boat?
The Topper is a great addition to the ISA Pathway. It has a very competitive racing fleet, yet is a good training boat because of its robust construction. It is easy to rig, whether one has the standard, or the racing spec, and simple to maintain. Because the hull is from a single manufacturer, there isn't the need for measurements at every event. Its fun, its accessible, its competitive, and known internationally as the "Friendly Class"!
It is an excellent choice for those who want to continue single-handed sailing if their weight or size means they have to leave their Oppy. Many move to the Topper to further hone their racing skills, rather than considering a two-handed boat, especially if they do not have ready crew. It is also a good choice for those who are starting sailing at a later age/ heavier weight. Because of their similarities in rigging, the Topper allows for a very smooth transition into a Laser at a later stage.
The Topper is recognized as a ISA Pathway Class at Junior level (For the ISA Topper Squad 2013, members shall be born in 1998, 1999 and 2000). However, in Ireland, many sailors continue sailing Toppers and compete in events in the Under 17 age group
In the UK, National and Regional Squads are at both Junior (Under 15) and Youth (Under 18) level.
A number of ex-Optimist sailors who sized out of Optimists early but wanted to continue sailing a single-handed boat, have gone on to sail Toppers successfully. The 2013 Youth National Topper Champion is Nicole Hemeryck, who moved out of Oppies into a Topper and within a year was national champion.
Suggested weight and age of sailor:
Age 10-16 will usually use the standard 5.3m² Sail
Weight Guideline: 47 – 63kg, but there are many sailors either side of this guideline enjoying sailing their Topper and competing at a high standard.
The smaller 4.2m sail is suitable for younger and lighter sailors from 35kg.
Class Association & useful website addresses:
ITCA (Irl)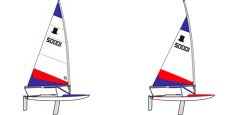 Standard 5.3 Sail
Standard 4.2 Sail
           
Sleeve covers top portion of mast.
           
No need to change mast or other fittings
if want to change to full size sail.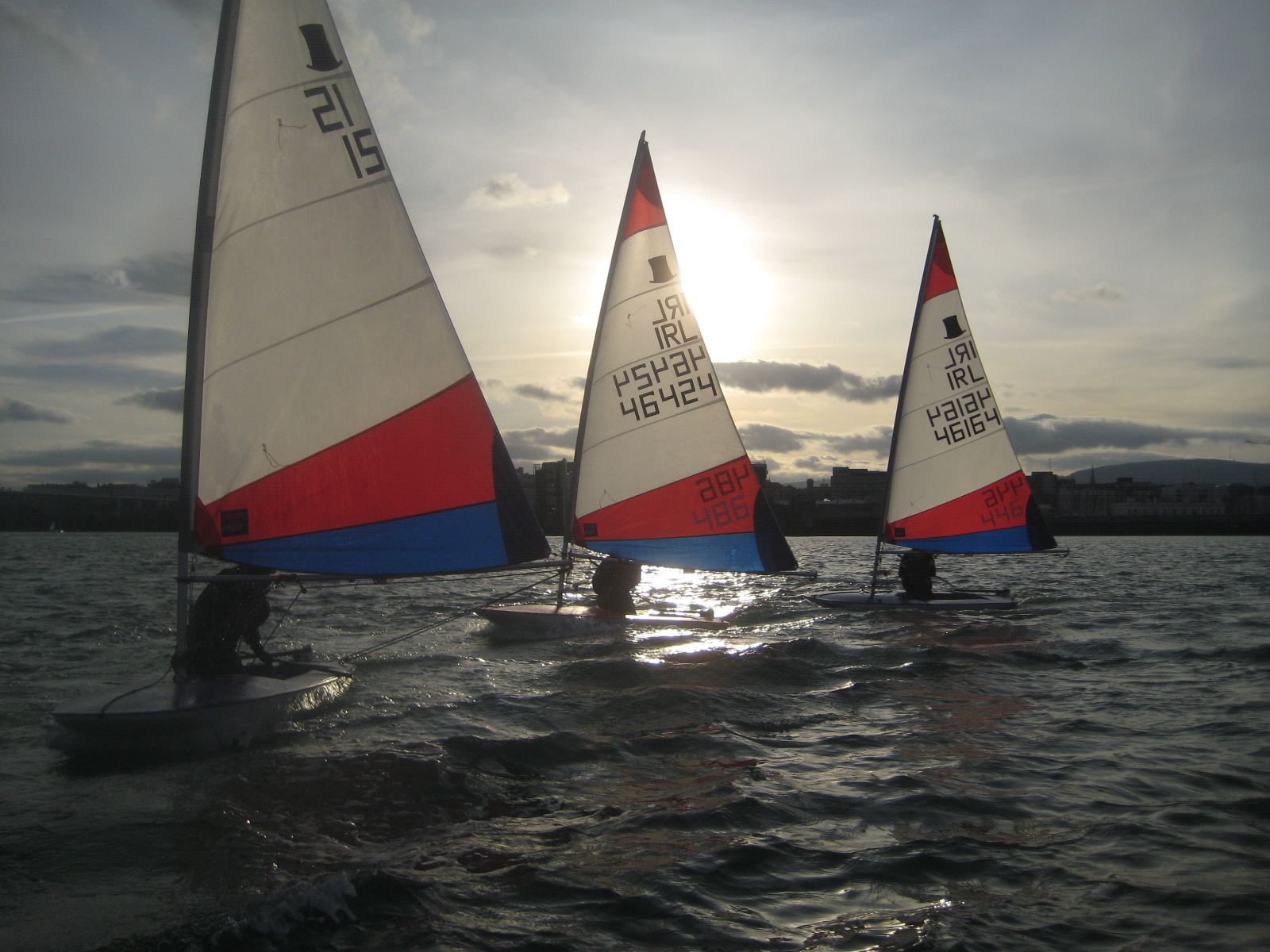 How to get started:
Clubs: Many sailing clubs have a fleet of Toppers which can be used, or chartered. Club members who sail Toppers will usually enthusiastically demonstrate the Topper to new sailors. The Topper is often used as a club boat on Summer sailing courses and many new Topper sailors are introduced to the Topper in this way.
Sailing Schools: The Topper is the boat of choice in many sailing schools due to its robust construction. While it is big enough to accommodate 2 beginner sailors, it is usually sailed single-handed.
Visit a local Event: If an event is being held in your local area, it is possible to visit to find out more about the Topper Class. Contact one of the Topper committee, or the local organisers through the relevant club. More Details of venues and dates below
Racing: There are many Events held throughout the country for any sailor wanting to get involved with racing. The Event Schedule and contact details can be found on the website – www.irltopper.com. Newcomers to racing are welcome and if they identify themselves as newcomers, parents and sailors alike, will be given support at the events.
Topper Committee. Any member of the Topper committee will be happy to answer any questions you may have, particularly if you are considering starting a Topper Class in your Club. http://www.irltopper.com/contactus.htm
Cost of boats:
New: Euro 3000-3200 approx or UK£ 2100-2500 depending on specification
Second-Hand: very variable but should get a good boat from Euro 1800-2000.
The hull material is polypropylene which has proved to combine strength and flexibility with lightness and virtually everlasting life. Because of this proven reputation, resale values are high.
Sails, and/or, fittings can easily be upgraded if you acquire an older hull.
Replacement parts are easily obtained from local suppliers (listed below).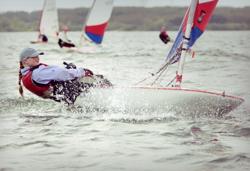 Second hand markets:
Buy & Sell pages on relevant websites:
Local sailing club websites/noticeboards
Word-Of-Mouth – particularly at Events
Events: Local, regional, national and international & cutoff ages for competitions

Topper Worlds Fenit, Co Kerry 2008, 176 entries
The Topper Association hosts more Events than any other Junior or Youth Class in Ireland, North & South. At each Event, there is a Standard (5.3m²) Fleet and a smaller 4.2m² Fleet. There are Under 17, Under 14, and Under 12 categories, with prizes in each age group. There are also separate 4.2 class prizes. There are 9 Events in 2010; the National Championship is a 3-day event attracting about 100 boats, the Regionals are 2-day events with about 50-70 boats, and the Travellers are 1-day events with 40-60 boats.
Training Opportunities
Local: Local Sailing Clubs (see below) If you want to have a Topper coach visit your club, particularly if you are starting a fleet, please contact the Topper Association for coach contact details
Local Sailing Schools including: INSS, Dun Laoghaire
Regional: Regional Training is regularly arranged for those sailors sailing competitively. Details are published on class website www.irltopper.com There are usually 2 Open Training days in the Winter/Spring. Coaching by leading Irish and UK coaches.
National: Selection criteria for the ISA Topper Squad can be found on the ISA website, and based on results of specific qualifying events. The ISA Topper Squad will receive specialist coaching by the ISA appointed coach. For Squad eligibility and qualifying events, see www.sailing.ie/youthsail.
Number in class:          100+
Active clubs etc.           Ballyholme Yacht Club
Carlingford Sailing Club
Carrickfergus Sailing Club
County Antrim Yacht Club, Whitehead
Cushendall Sailing & Boating Club
East Antrim Boat Club,Larne
East Down Yacht Club
Killyleagh Yacht Club
Quoile Yacht Club
Strangford Lough Yacht Club
Blessington Sailing Club
Courtown Sailing Club
Howth Yacht Club
Lough Swilly Yacht Club
Mullaghmore Sailing Club
National Yacht Club, Dun Laoghaire
Waterford Harbour Sailing Club
Wexford Harbour Boat & Tennis Club
ISA Pathway Boat?    Yes.
"The ISA Performance Pathway is all about progression and in that regard the Topper has probably been the most successful pathway boat. Take a look at the Academy members and you will note that a substantial number spent their junior years racing in the Topper. The class is now growing steadily on the East coast and is the perfect option for those a bit to big for the Optimist but still want to enjoy racing single handers" James O'Callaghan ISA Performance Director
FAQ
Developments
Although the Topper was originally designed with an aft main sheet, many years ago the Topper Class adopted the centre main-sheeting system with a longer tiller extension. This has made the boat more comfortable to sail, and is a similar system to the Laser, allowing for a smooth transition to that Class at a later stage. There are options to upgrade from the standard fittings, to a 4:1 outhaul, 6:1 downhaul, and 3:1 kicker for the more competitive sailor.
4.2 Topper Sail
A smaller 4.2 m² Topper sail has been introduced and is growing in popularity. It has been designed specifically to enable smaller sailors to enjoy the thrill of sailing Toppers. A young UK Topper sailor has written about the transition from his Optimist to the Topper 4.2 http://www.gbrtopper.co.uk/page.php?7
"Hi my name is Tom, I sail a topper 4.2, I am 11 years old. I'm writing this story to try to encourage people around my weight (35 kg) to go into a Topper 4.2 rig rather than a full rig straight away."
The good things about 4.2's are that in strong winds you will be going up the beat or along the reach and you'll be laughing. You'll overtake loads of full rigs because they'll be upside down. On the runs you won't lose any ground, as you'll be going at roughly the same speed.
The bad thing is the light winds. If you get a good start you will get a fairly good race you've just got to stay in clean air and do good mark roundings. In a 4.2 you can't head as high as a full rig in light winds.
"Before I had my Topper I had an Optimist, I sold my Optimist after the 2005 Nationals in Pwllheli. I like the Topper better because it's a faster boat. They are easier to right after a capsize because they don't fill with as much water and have a self bailer."
In an Optimist you almost always have to wear a dry suit but in Toppers your doing more work, like playing with the controls, letting them off, putting them on, going round the mark, heeling the boat, leaning it to windward to bear away around the windward mark. This means I can normally wear my Roosters.
"4.2s are generally faster than a reefed sail in strong winds and it saves damaging your full sail by reefing. When I'm older and heavier and need a full sail I don't have to change the lower mast, like in Lasers, but just have to change the sail."
You don't have to measure your boat at every event because Toppers are all the same – that makes competitions a lot less stressful.
My coaches have set me targets against other 4.2 Toppers, so as far as I'm concerned I am racing against other 4.2's, but if I get past some full rigs that's great!
Life After Toppers
The Topper offers a good option for those who want to continue sailing for fun aged 12-15, who might be getting a little too big, physically, for the Oppy. While most Topper sailors continue to sail as a "sport for life", many Topper champions have gone on to greater successes with the ISA Academy and internationally. Current and recent Academy members who sailed Toppers include Chris Penney, Oliver Loughead, Philip Doran, Rory Lynch, Tiffany Brien, and Robbie Gilmore. Last year, 9 of the top 10 Laser sailors in the UK had come from Toppers.
Other useful information
The Topper was designed by Ian Proctor who also designed the Wayfarer. The hull was originally constructed in GRP but this was changed early on to an injection moulding construction, which allows for incredible precision, reaching a level of uniformity quite outside the scope of any other production system. The material is polypropylene which has proved to combine strength and flexibility with lightness and virtually everlasting life. Because of this proven reputation, resale values are high. The two main mouldings of the Topper hull are fuse-welded together to produce a robust single unit. Specially shaped polystyrene blocks are fitted at this stage to provide extra stiffness and enormous reserves of positive buoyancy in the very unlikely event of the Topper's tough skin being holed. The hull of every Topper has a five year warranty proving that the builders have great confidence in it. In 1977, the Topper was awarded the UK Design Council Award and the Horner Award for achievements in plastics.
Specification
Hull: lightweight and "car-toppable"
Hull Construction: injection moulded polypropylene
Length: 3.4m
Beam: 1.2m
Weight: 43kg
Sail Area: 5.2 sq m
Sail material: Dacron
Mast: Coated aluminium