Trials 2019 – Key Information & Documents (updated 23/4)
Please find links to key documents for 2019 Trials below.
Irish Sailing Youth Nationals Notice of Race
The Optimist Trials is run as part of Irish Sailing's 'Youth Nationals'. The Notice of Race can be found on Irish Sailing's website. See link above.
2019 Major Events Sailing Instructions (inc. Trials)
IODAI's 'Major Events Sailing Instructions' shall apply to the regatta. Hard copies of the sailing instructions will not be provided. Please also see the supplementary sailing instructions below
Supplementary Sailing Instructions (specific to 2019 Trials)
These are to be read in conjunction with the Notice of Race and IODAI's Major Event Sailing Instructions. The Supplementary Sailing Instructions will take precedence in the event of any conflict between the three documents.
Measurement Self-Declaration Form
To be completed and presented at registration. Competitors attention is drawn to a previous post on Measurement Requirements.

RCYC General Information Leaflet
See link above for useful information about the event, club, area etc
Trials Results
Results will be posted to the results page on this website as soon as possible after each race.
Documents outlining the selection rules for Teams, Team training dates, Team costs and Codes of Behaviour will follow.
NOTE : ROAD CLOSURE BETWEEN RCYC AND CROSSHAVEN VILLAGE
The road between the club and the village is due to be closed during the event. It can be walked in about 13 minutes.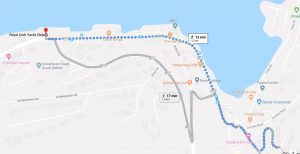 A detour can be taken via Drake's Point housing estate: